Realize Your Dream of Becoming a Certified Bodywork Practitioner
Currently, there are many therapies under the umbrella of traditional Oriental medicine, such as massage, chiropractor, acupressure, chiropractic, and Oriental chiropractic. The therapeutic techniques taught at our school were created by consolidating the best aspects of these therapies, rather than being limited by the confines of each individual technique, in order to develop a new form of Oriental medicine. Our direct treatment clinic is well known for its high level of therapeutic technique, and in response to the requests of our customers, we have established the GOODHANDS Massage School. Our school is dedicated to helping people live healthy lives both physically and mentally. As a professional therapist who provides healing to people, you will have a job that is fulfilling, helps others, is appreciated, and is rewarding for a lifetime. We are waiting for you to pursue your dream of becoming a professional therapist or masseur.
Points of GOODHANDS Massage School
Clear and easy-to-understand lessons even for beginners.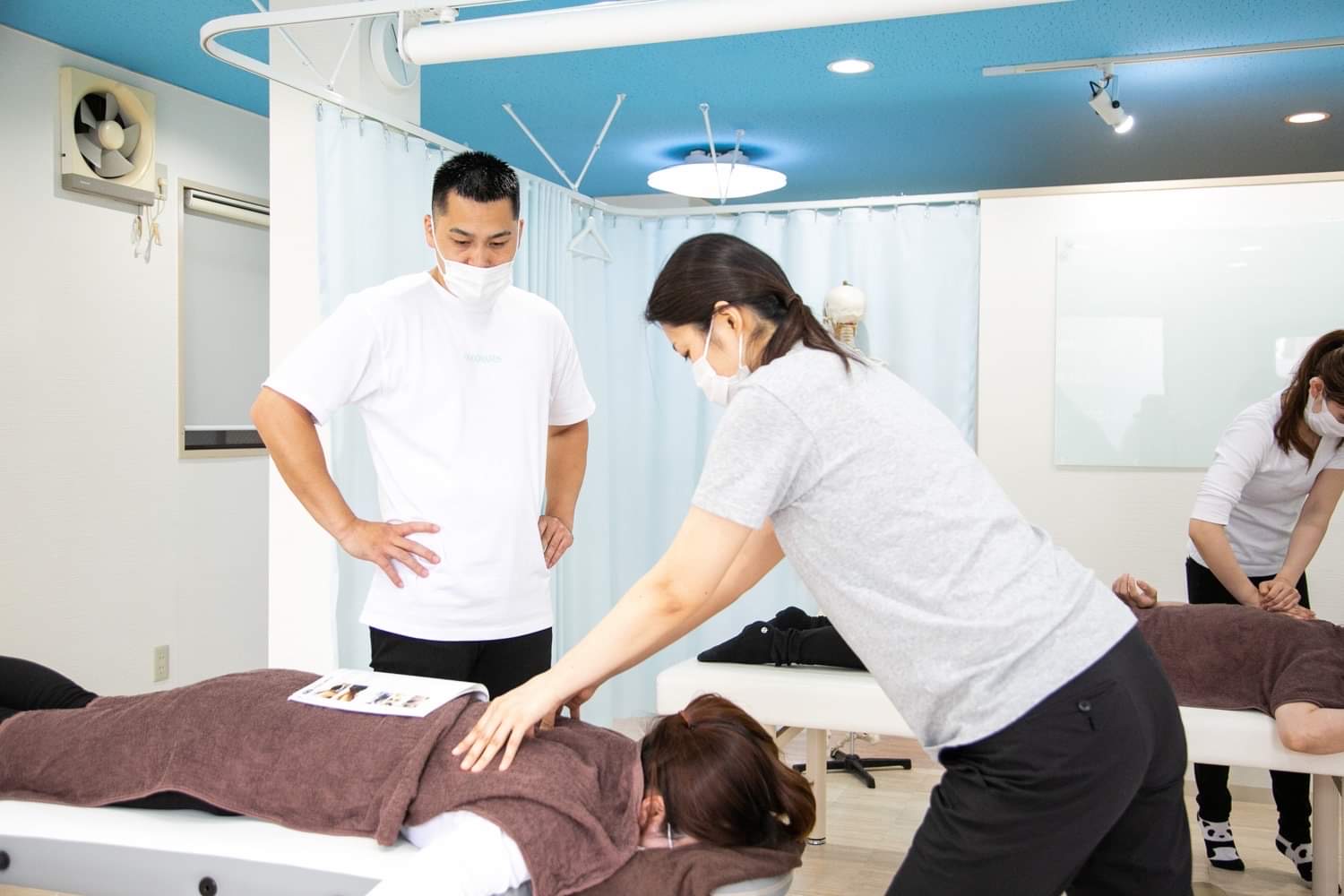 At GOODHANDS School of Bodywork, we value each student's learning pace, so even complete beginners who may not know their right from their left can feel at ease and learn with confidence as we adjust the pace of our lessons according to each student's level of understanding.
Flexible schedule plans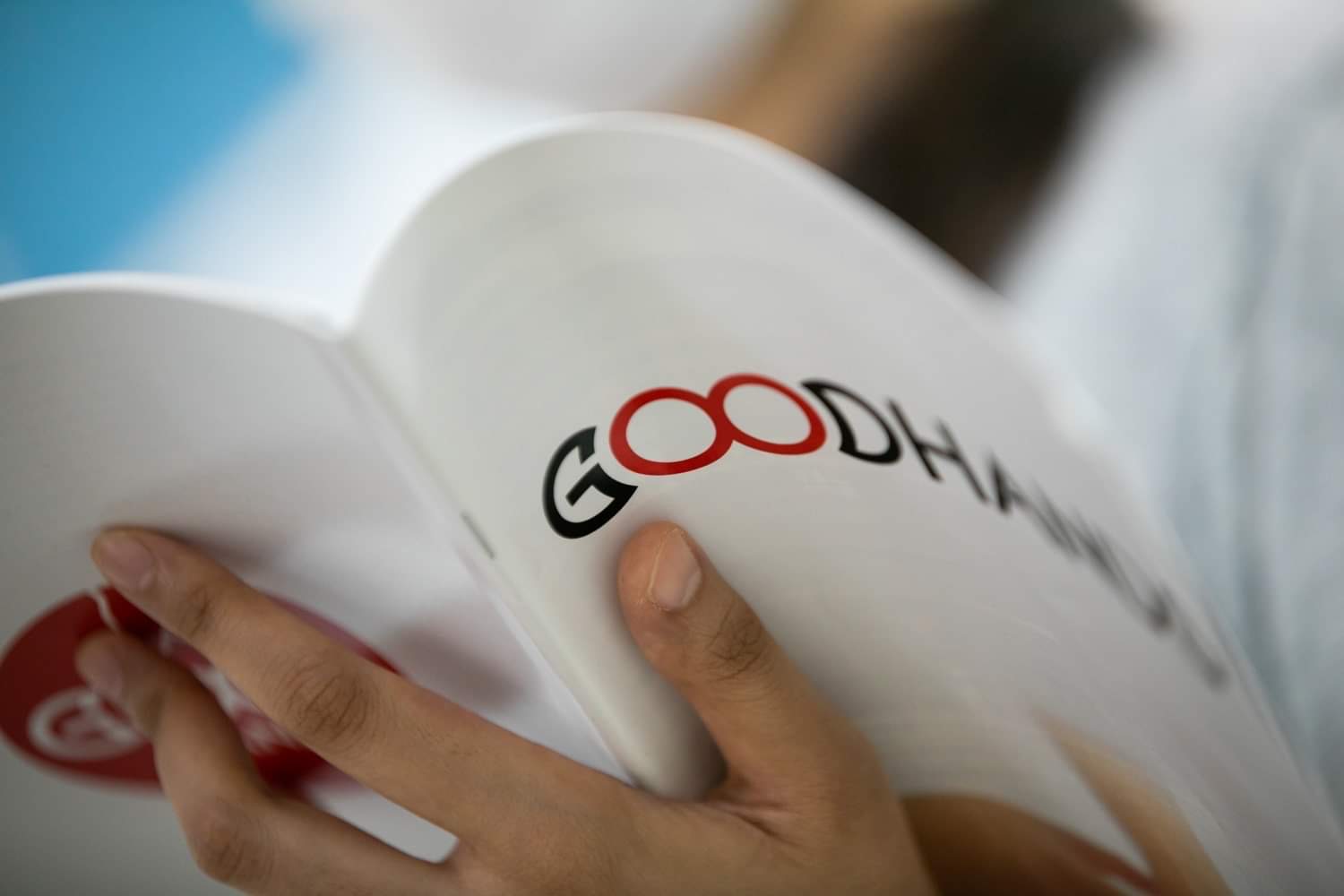 Many of our students are housewives with children, and some of them balance their studies with their family lives. GOODHANDS School of Massage and Bodywork offers plans that cater to these students' needs.
Sharing 20 years of knowledge, experience, and skills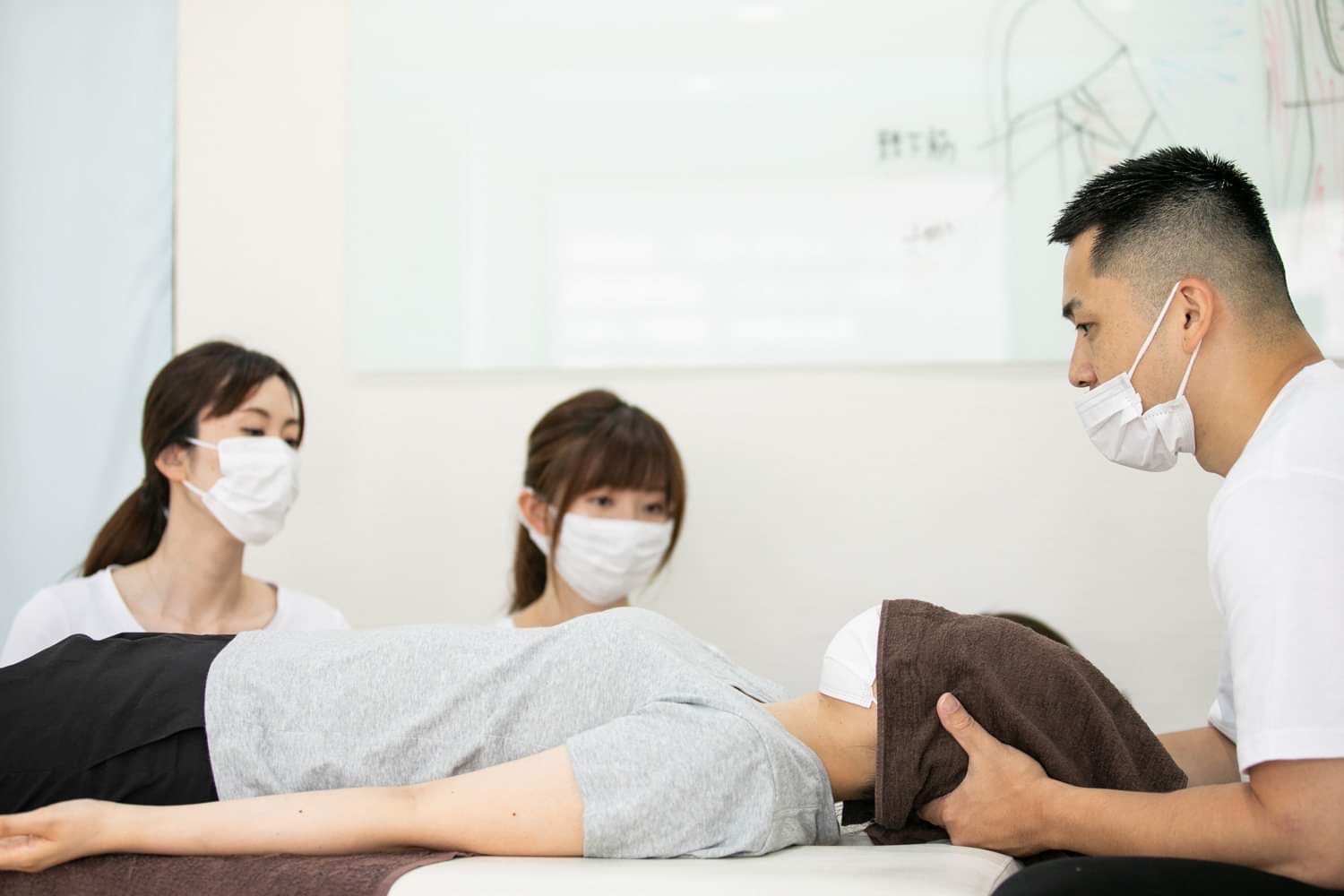 We provide comprehensive training on the knowledge, experience, and skills required to become an exceptional chiropractor, covering everything from the anatomy and physiology of the human body to practical techniques for addressing various symptoms. We offer one-on-one training as well.
Acquire techniques that are beneficial for people
Chiropractor is a field that is connected to various other fields. By using the power of human hands, it can lead people who feel pain or discomfort towards improvement, and sometimes, chiropractor treatment can also lead to mental care. Why not learn a technique that can benefit important people in your life, your own body care, and even more people at GOODHANDS Chiropractor School?
We also provide comprehensive support
Graduates and current students from other massage schools may receive

exemptions on the number of hours and tuition fees depending on their proficiency level.

You can learn from a minimum of

2 hours at any time of your choosing,

with a maximum of 6 hours per day.
While enrolled, you can receive all

our salon's services at half price

We also provide support for those who are unsure about starting their own business.
Payment of tuition fees in

installments is available.

※Please consult with us regarding the number of installments.

We are currently holding seminars

on our massage school at no charge.

※Please feel free to contact us for inquiries regarding our school.
Graduate Testimonials
Mayuka Tanaka,
Osaka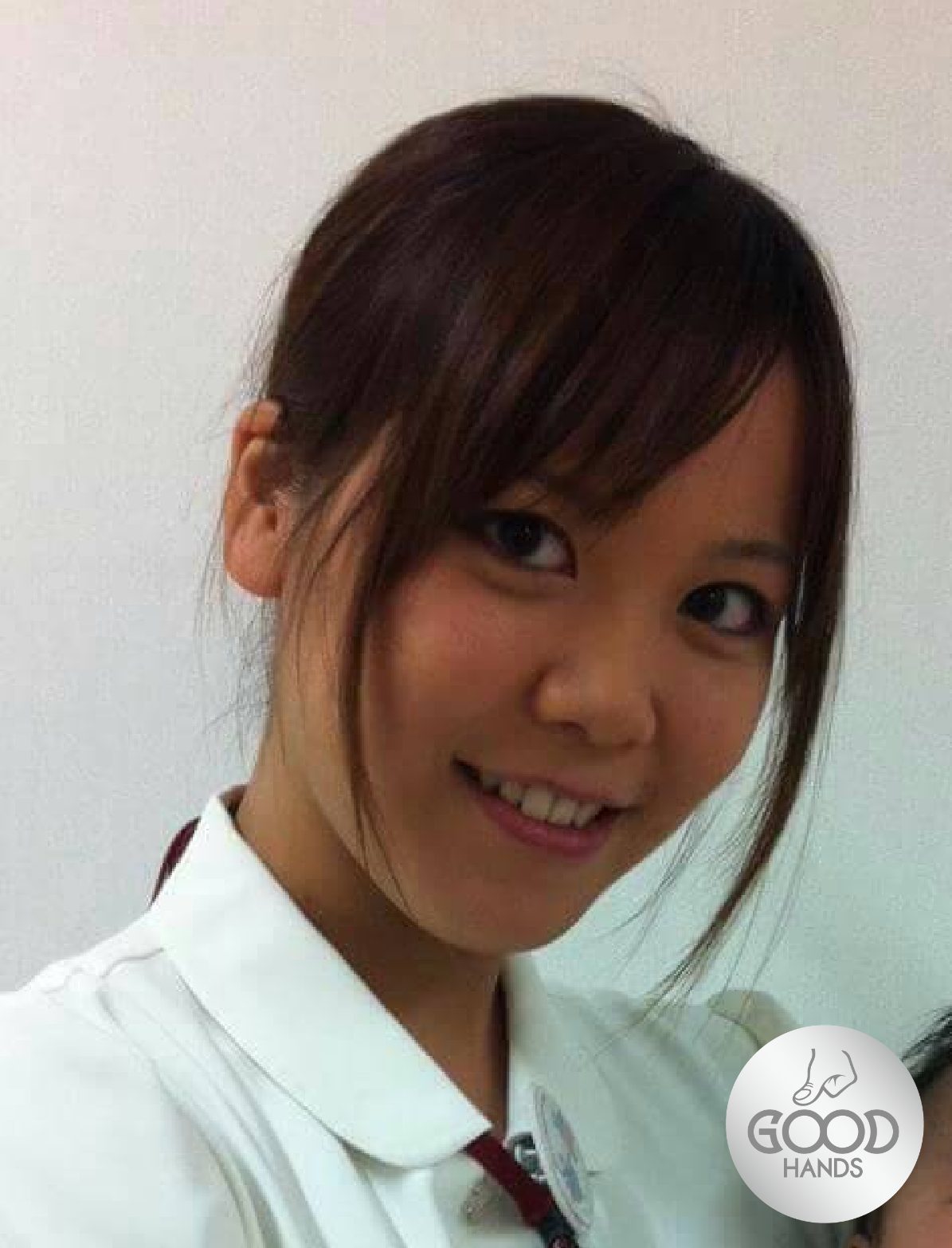 I would like to utilize my qualifications as both a midwife and a bodywork therapist to contribute to the care of pregnant, birthing, and postpartum individuals.
Motivation for Enrollment
While working as a midwife, I saw pregnant women suffering from back pain due to their growing bellies and those who were unable to deliver naturally due to a narrow pelvis, resulting in a cesarean section.
When I became pregnant myself, even in the early stages of pregnancy when my belly was not yet large, I experienced pain from my lower back to my buttocks that I had never felt before. I received chiropractic treatment at GOODHANDS, where I had previously received care, and the pain disappeared after just one session. Through my own pregnancy experience, I realized the importance of pelvic care during pregnancy and childbirth, and decided to enroll in a chiropractic school to learn more about it and apply that knowledge to my work as a midwife.
Impressions of Chiropractic School
In small classes with other students, we are taught each technique carefully using a textbook. We not only learn the flow of chiropractic treatment,
but also the finer points, the right amount of pressure to apply, and important considerations, enabling us to really feel that the skills are becoming a part of us. It's enjoyable to attend the school every time as a result.
Future Goals
I want to utilize my qualifications as a midwife and chiropractor to assist with care during pregnancy, childbirth, and postpartum. As a midwife, I will provide health guidance during pregnancy, and as a chiropractor, I will reduce minor discomforts during pregnancy and perform pelvic care to prepare for childbirth. Additionally, I aim to provide relief for physical discomforts such as shoulder stiffness during childcare consultations after giving birth. These are my goals.
Hidemasa Takagi,
Osaka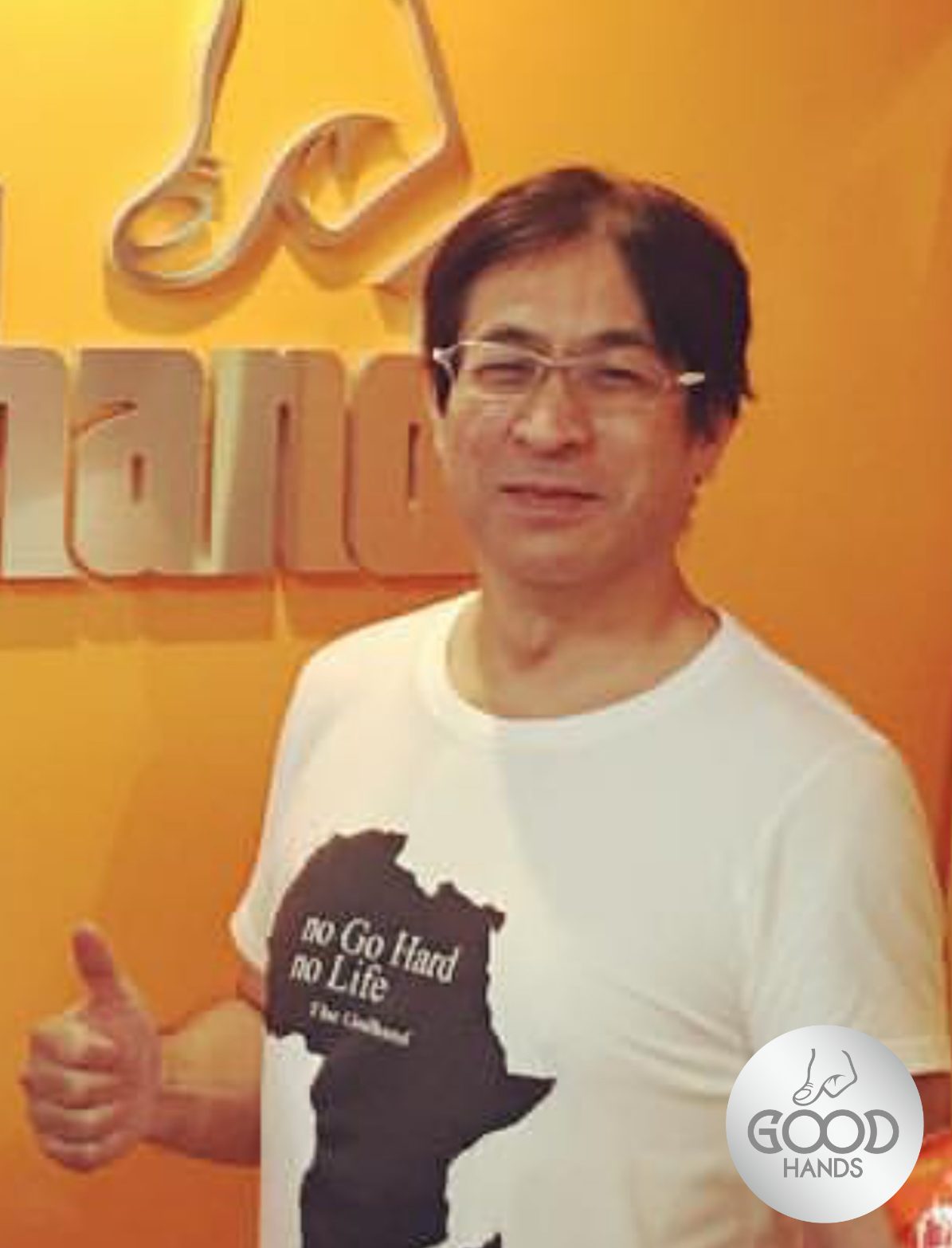 I am enjoying the training and receiving careful instruction not only on basic techniques, but also on other aspects.
Motivation for Enrollment
I became interested in chiropractic care when I was suffering from severe pain in my toes,
which made it difficult for me to sleep at night. Despite seeing numerous doctors, chiropractors, acupuncturists, and other specialists, the pain did not improve.
However, when I started going to GOODHANDS, I gradually felt better and the pain that could not be cured in the hospital disappeared. This experience sparked my interest in chiropractic care as a profession. At that time, I heard about the school's recruitment and immediately decided to enroll, as I believed that chiropractic care has no age limit and that it is a qualification that can be used globally.
Impressions of Chiropractic School
The impression of the massage school is that the teacher demonstrates carefully, and then the students practice on each other, with the teacher correcting any mistakes at the end by serving as a model.
In addition to teaching the techniques, the teacher also explains the structure of the pelvis and the causes of pain in great detail during the classroom lessons.
If there are any concerns after the lesson, you can ask questions later, and the teacher will explain again.
I have been enjoying the lessons very much as they are very informative and enjoyable. The training materials such as books and DVDs are also very helpful.
Techniques for conditions such as herniated discs, frozen shoulder, bowlegs and knock-knees are taught in accordance with the symptoms, and methods for self-care after massage at home are also taught. I really think it was a good choice to attend this school.
Future Goals
I plan to open my own practice after 2-3 years of training.
Makiko Oozora,
Osaka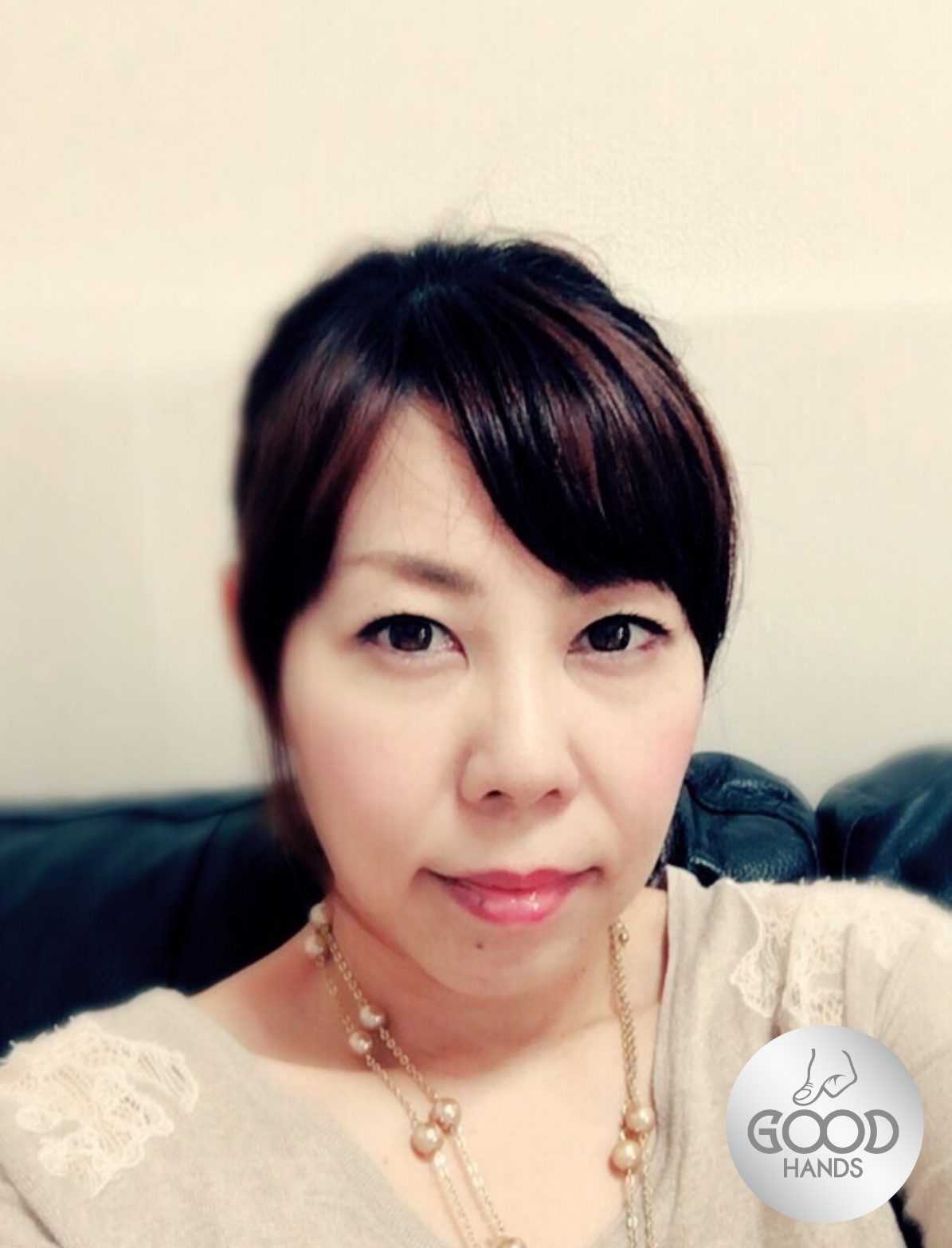 Even while raising children, I am able to attend and learn at my own pace because the schedule is flexible.
Motivation for Enrollment
I wanted to enroll in the school because I had received treatments from Dr. Okui and trusted his skills in chiropractic therapy.
Impressions of Chiropractic School
I have a busy life raising children and working, but the school accommodated my schedule, so I could learn at my own pace. I also appreciate that I can acquire the techniques reliably.
Future Goals
My future goal is to establish a chiropractic clinic where women and children can feel safe and comfortable receiving treatment.
Kyoko Yoshino,
Hyogo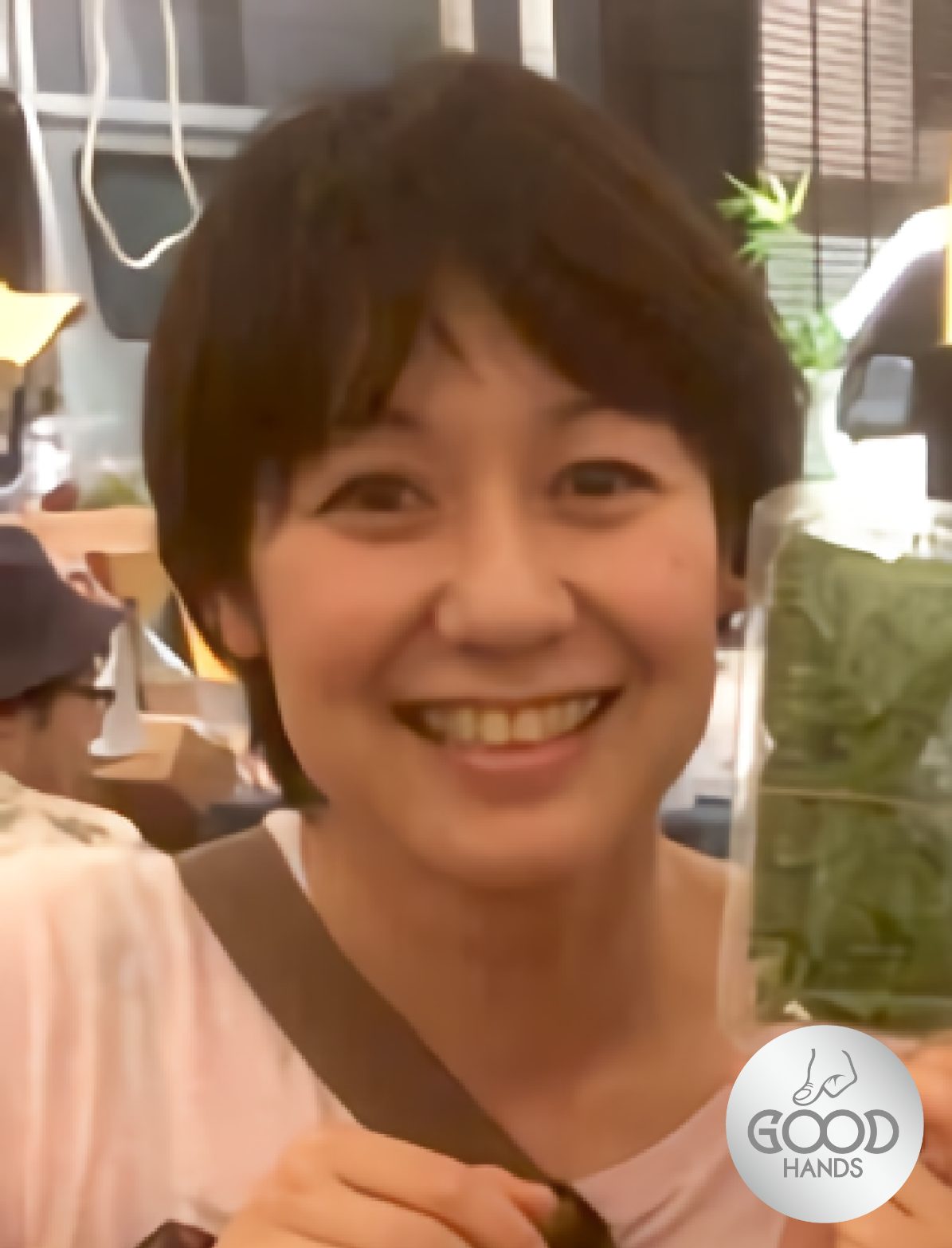 Even though it is my first time trying many things, I am able to learn with ease because
the instructors teach carefully and any anxiety is quickly relieved.
Motivation for Enrollment
Four years ago, I met Dr. Okui and received a bodywork treatment in Ishinomaki.
I wanted to work in a job that involves taking care of people's bodies, so I consulted with Dr. Okui and that was the trigger for me to attend this school.
Impressions of Chiropractic School
It's challenging to learn everything for the first time and to remember it both mentally and physically, but the teachers are very patient and provide thorough guidance, which quickly resolves any anxieties, and I am enjoying learning.
Future Goals
I want to become a practitioner who can empathize with each individual and provide tailored treatment in the future.
Yumi Kamoda,
Osaka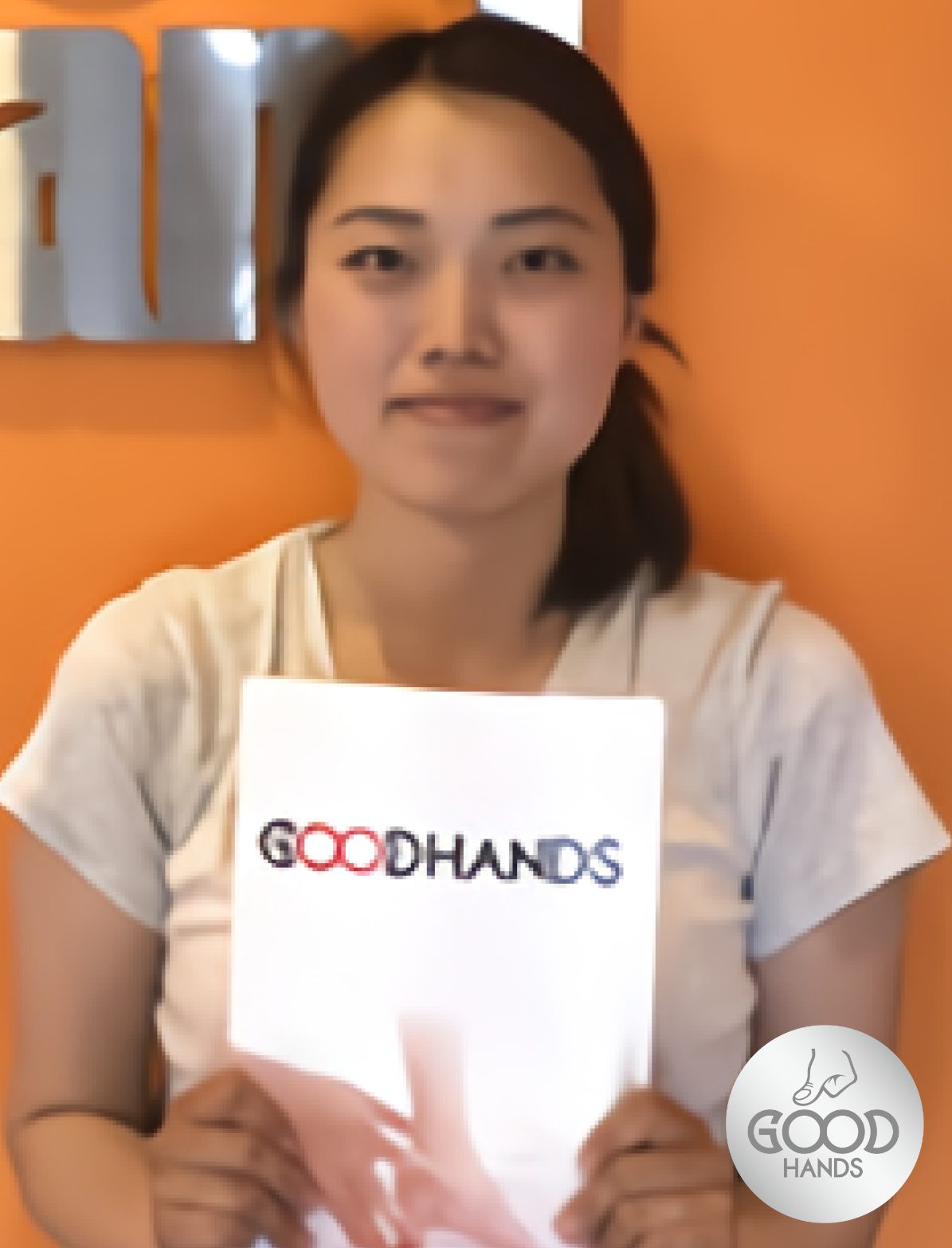 I was able to learn not only techniques but also how to interact with people.
Motivation for Enrollment
I decided to enroll in the GOODHANDS chiropractic school because I want to take care of my family and friends' physical well-being.
Impressions of Chiropractic School
I have limited days to attend the school because I have children, but they adjusted the schedule to fit my desired days and times, so I was able to continue without any difficulty. They patiently taught me repeatedly until I understood everything, including how to interact with people, not just learning the techniques. I was able to learn a lot, and it was really enjoyable.
Future Goals
I would like to aim higher little by little without forgetting what I have been taught. When I have time, I would like to learn the chiropratic course as well.
Hibiki Jogo,
Professional Boxer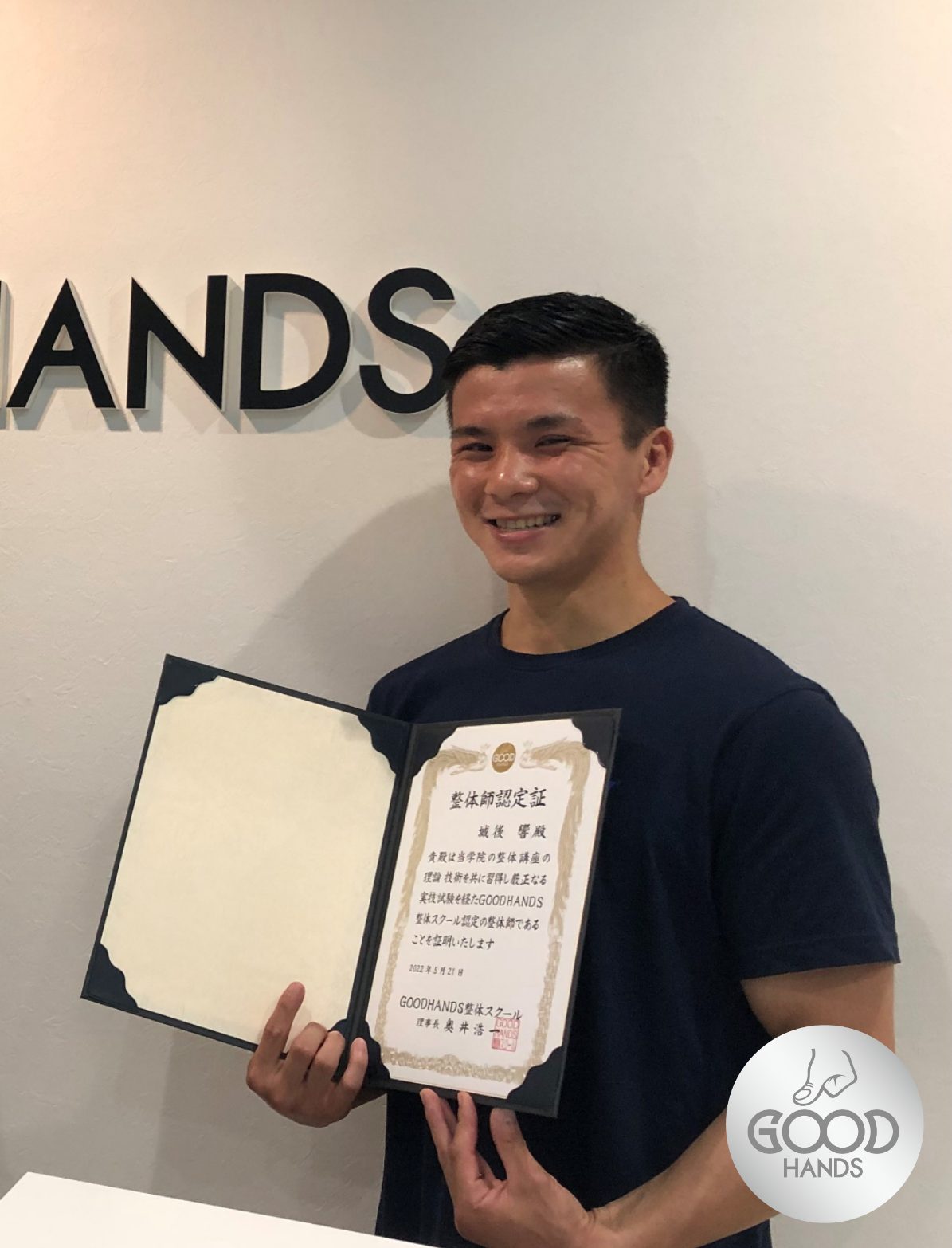 After becoming a world boxing champion, I became a bodywork therapist.
Motivation for Enrollment
After receiving a bodywork treatment in a trial lesson, I could feel the long-term pain in my neck and shoulders disappear, and my body improve. This experience made me decide to study here too. I hope to apply what I learn in the field of boxing as well as in bodywork.
Impressions of Chiropractic School
I look forward to each lesson because I can receive clear and easy-to-understand instruction in one-on-one sessions.
Future Goals
My dream is to become a world boxing champion. After retirement, I would like to become an independent bodywork therapist.
Yasutaka Hiromura,
Hyogo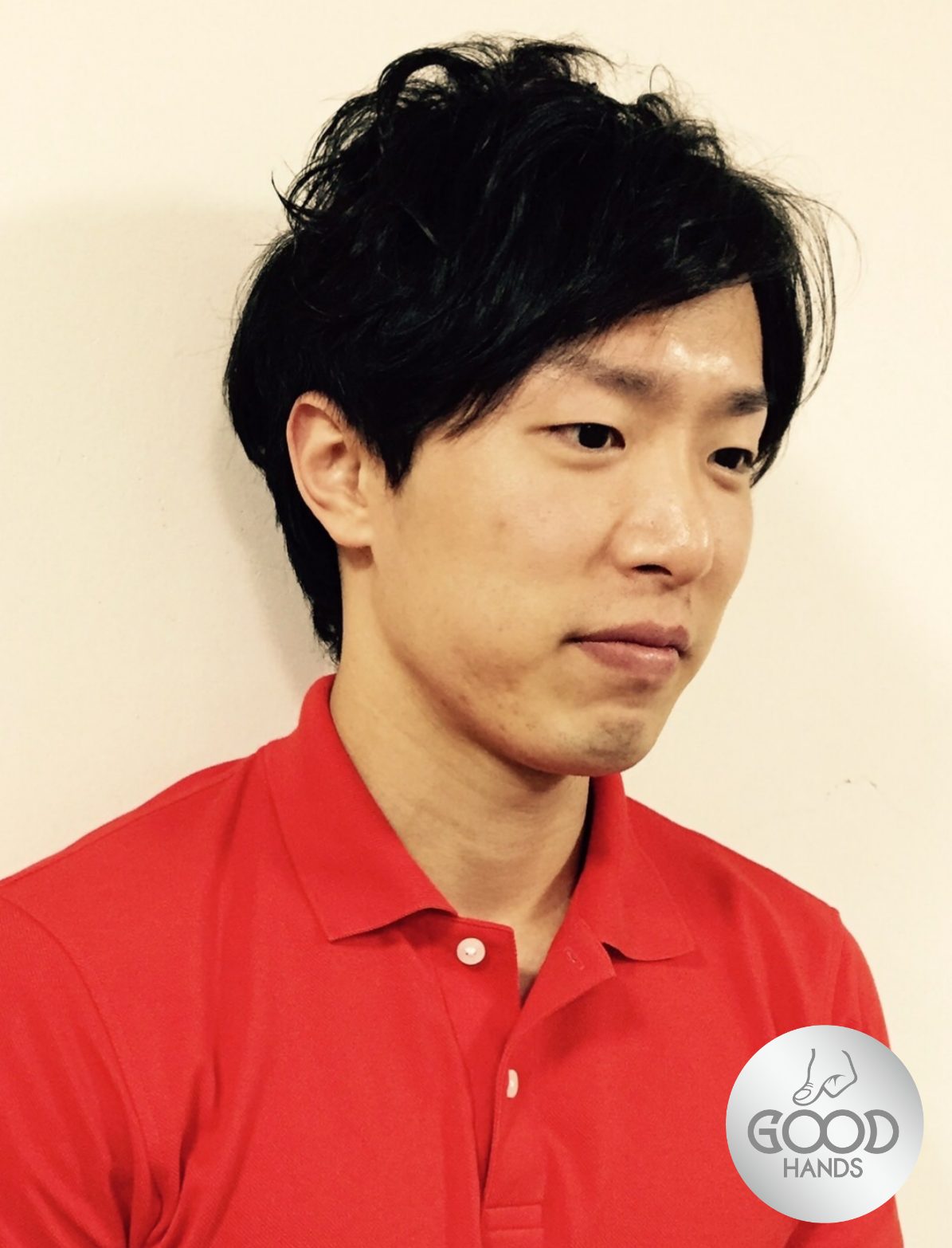 Receiving treatment at GOODHANDS prompted me to enroll in the program
because I wanted to learn these manual techniques.
Motivation for Enrollment
I became interested in the field of bodywork after watching a video of Dr. Okui, and began learning bodywork while working at my previous job in my local area. Later, I went to GOODHANDS for a treatment and felt a significant improvement in my body.
I was determined to learn this technique and decided to enroll in the GOODHANDS Bodywork School at that time.
Impressions of Chiropractic School
I appreciated that I was able to receive one-on-one guidance directly from Mr. Okui. It was great that I could learn from the basic techniques to specific techniques for each case, tailored to each individual's progress.
Additionally, I learned a lot from the teacher's experiences and knowledge, not only in self-care, breathing techniques, and other areas beyond manual therapy.
With this, I believed that I could definitely support the health of people who were weakened. I was fulfilled because I was able to use what I learned immediately in the field starting from the day after attending the school.
What about now?
Currently, I am working at a chiropractic clinic while saving up funds to open my own practice.
I am applying what I learned at GOODHANDS massage school to help people in need.
Although I am still at the starting point, I feel a sense of fulfillment in this job every day.
Kotaro Sogawa,
Osaka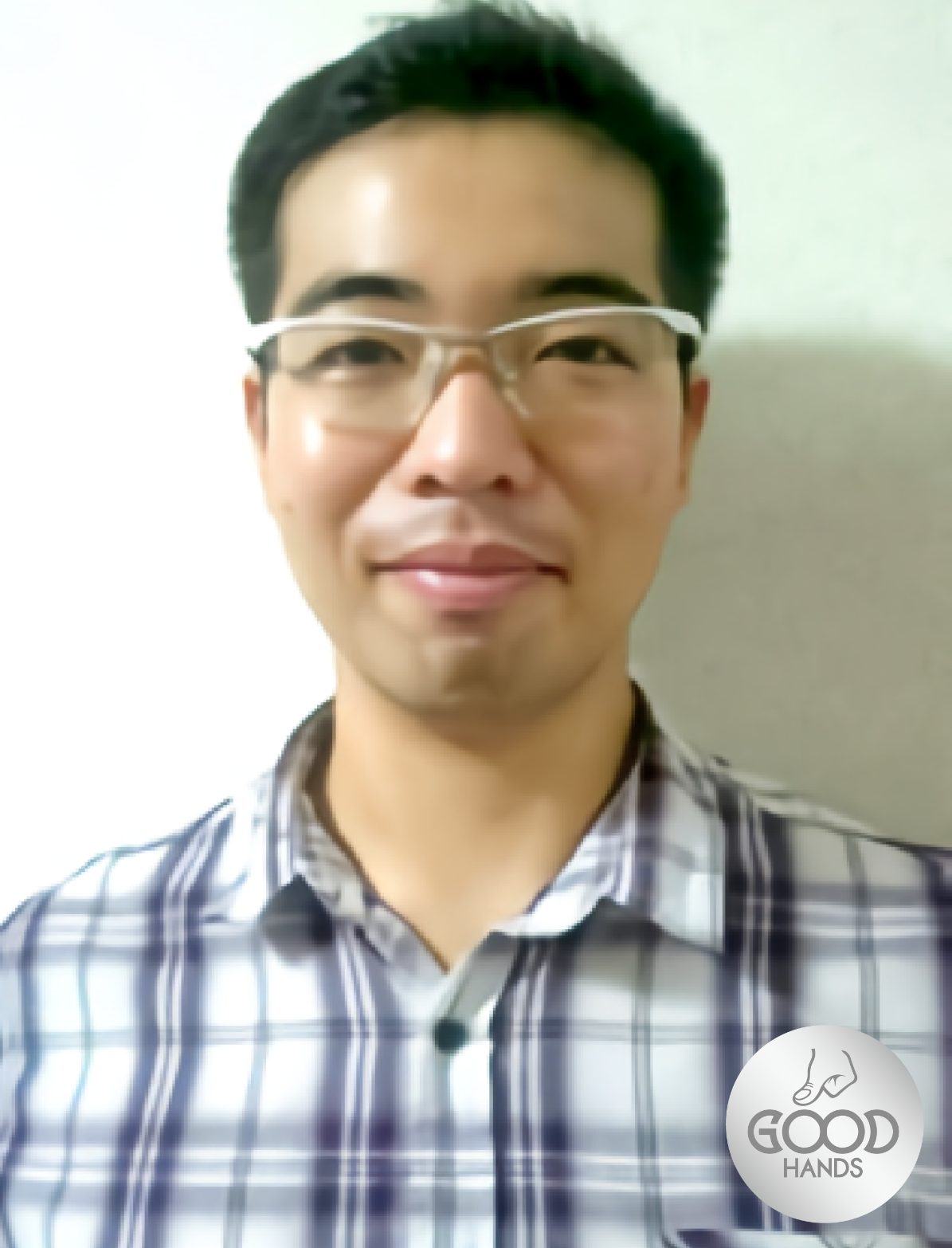 I experienced setbacks during my student days and enrolled in GOODHANDS
Bodywork School while taking a leave of absence.
Motivation for Enrollment
As a physical therapy student, I failed some courses in the first semester, and due to credit requirements, there were no available courses for me to take in the second semester, so I decided to take a leave of absence from school and study chiropractic during that time. With the recommendation of my family, I enrolled in GOODHANDS Chiropractic School.
Impressions of Chiropractic School
What I learned from Professor Okui was a variety of knowledge about the structure of the body, advanced techniques, and the mindset of being a professional therapist.
What about now?
There is a common ground between the hands-on approach of both chiropractic and physical therapy in relieving patients' pain.
Unfortunately, as I am currently working as a physical therapist in a hospital, I have drifted away from the "technique" aspect of chiropractic. However, every day, I remind myself of the advice and encouragement from Dr. Okui to "focus with all my heart and transmit it all through my hands to the patient's body." The things I learned at GOODHANDS chiropractic school are lifelong assets.
I will cherish the things that Dr. Okui taught me and continue to do my best to heal as many patients as possible.
Tatsuya Kashiwazaki,
Iwate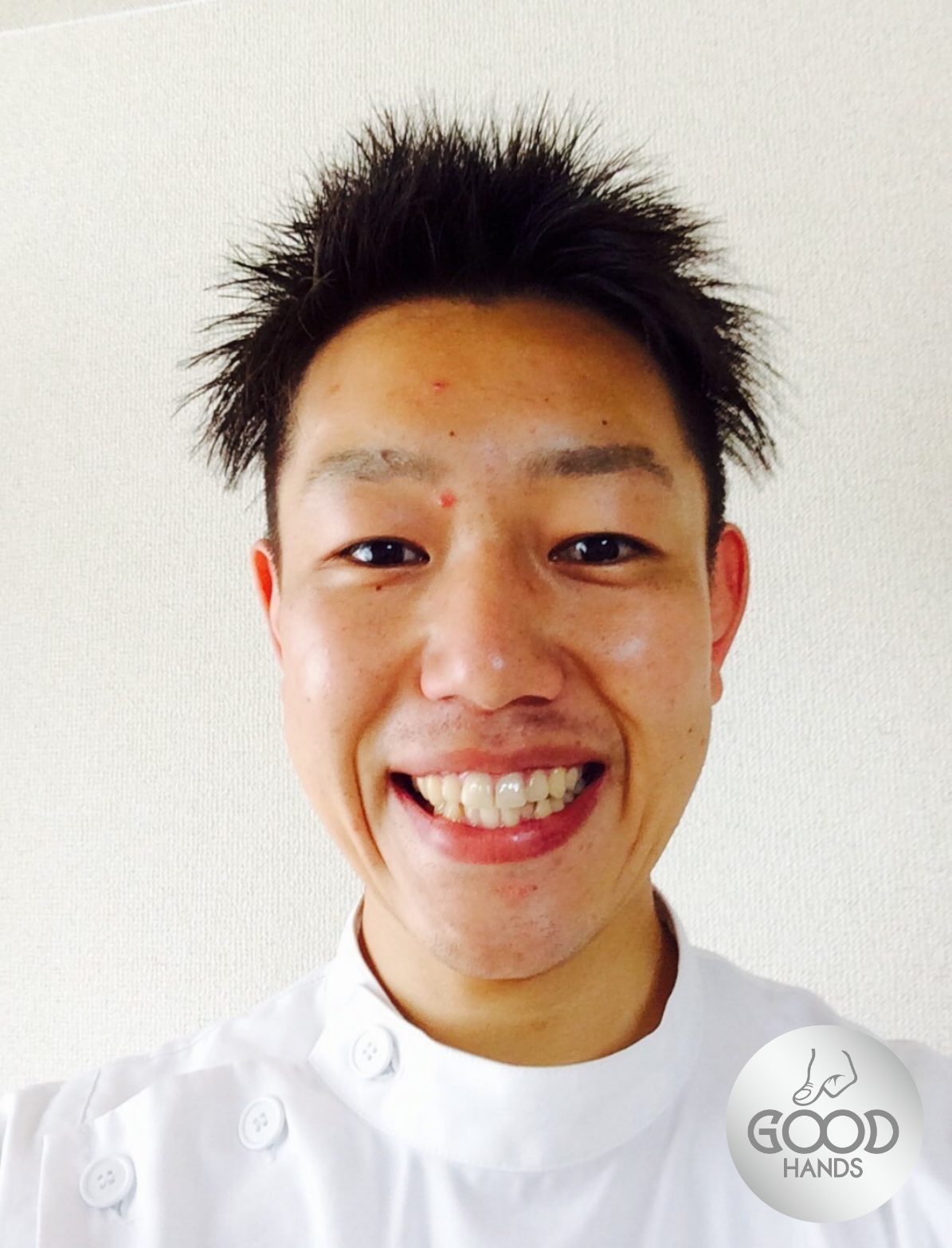 Learning about the volunteer bodywork activities of
Professor Okui in disaster areas was the impetus for my enrollment in GOODHANDS Bodywork School.
Motivation for Enrollment
A few years ago, I experienced not being able to stand up due to a herniated disc. At that time, a friend recommended me to try out an osteopathic treatment for the first time. I was impressed that I could move smoothly after the treatment. Since then, I had an interest in osteopathy, but I couldn't find an opportunity to start it in my countryside where I lived. Then, I saw a video of Dr. Okui, the director, volunteering in a disaster area to provide osteopathic treatment. I decided that I also wanted to help people through osteopathy. After resigning from my job, I moved to Osaka the following month and enrolled in the school.
Impressions of Chiropractic School
As a complete beginner in the field of chiropractic therapy, I was initially nervous, but the one-on-one lessons were a great help as I was able to learn at my own pace. In addition to learning techniques, the curriculum was also comprehensive, covering topics such as management, customer service, psychology, and nutrition. After obtaining my certification, I was able to work on the same site for about six months as a trainee. I was thrilled to see that the knowledge and skills I learned were useful in practice, and it was very satisfying to see clients happy with the results.
What about now?
I am currently working at a chiropractic clinic while continuing to deepen my knowledge of the body, mind, and diet. The notes I took during my studies with Dr. Okui are still helpful to me today.
While I was in school, Dr. Okui said,"Learning is a lifelong process," and I am reminded of that every day as I work in the field of bodywork, where there is always room for improvement and growth.
Hisao Nishi,
Osaka
When I wanted to use my own hands to help others,
I found GOODHANDS Bodywork School.
Motivation for Enrollment
When I was thinking about wanting to do something that would help others with my own hands, I came across GOODHANDS Chiropractic School. Before enrolling, I had been in contact with Dr. Okui and had participated with him in volunteering in the disaster area of the Great East Japan Earthquake. At that time, I could only do simple things to help, but there was always a long line at Dr. Okui's chiropractic booth every day, and it seemed to speak to the fatigue of the evacuees' lives and the stress after the earthquake.
Those who received treatment not only felt better physically but also seemed to feel better mentally after talking to Dr. Okui, and their faces changed to a cheerful expression, which was impressive. After that, when I heard from Dr. Okui about opening a chiropractic school, I decided to enroll because I strongly wanted to be able to do something for others.
Impressions of Chiropractic School
At the beginning of my studies, I felt anxious, but as I learned with the guidance of Mr. Okui and my fellow schoolmates, my interest in the depth of chiropractic and the mechanism of the human body only deepened.
After graduating from school, I accompanied Mr. Okui as an assistant at a chiropractic seminar in Tanzania, Africa, and witnessed the depth of chiropractic in a place far from Japan.
Even though the people there did not speak the same language, they were amazed that pain that could not be treated by the medical standards in Africa was alleviated through chiropractic treatment.
I still feel that "chiropractic," which can be administered without being confined by language or race, has great potential.
Kensuke Moriwaki,
Osaka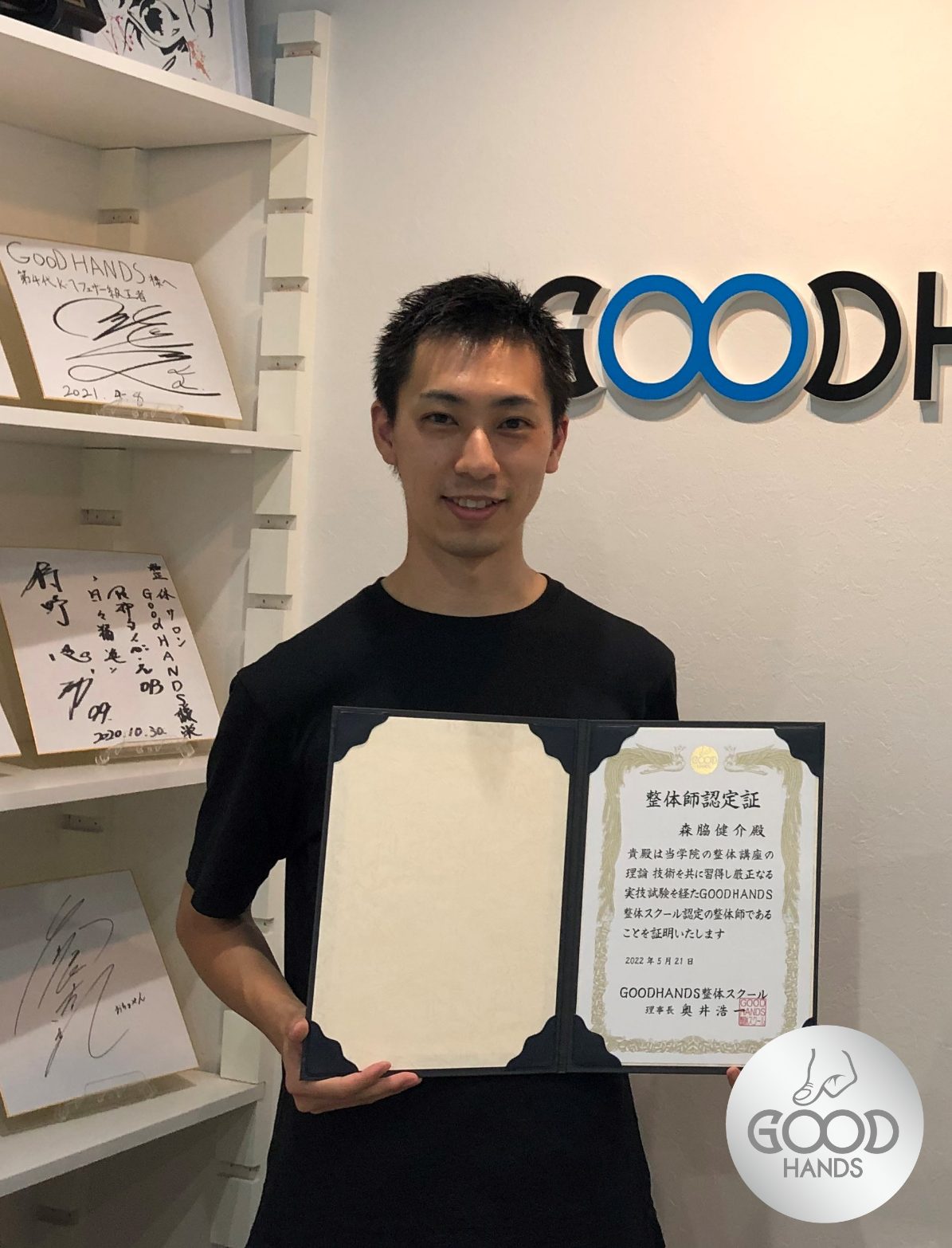 After receiving treatment at GOODHANDS, I was amazed at how much my body changed despite feeling unwell. I decided to enroll in the school to learn this technique.
Motivation for Enrollment
The first time I received a treatment from Dr. Okui as a client, I was impressed by how much my body, which had been feeling bad, could change. Because I was already interested in the mechanics of the body, I decided that I wanted to learn this technique.
Impressions of Chiropractic School
In order to thoroughly improve practical skills, Dr. Okui provided us with high-level technical guidance without compromising at all. I think the level of proficiency required was high, but graduating from the school gave me a great confidence that "I can make people feel better with chiropractic care."
Goal
I want to fully utilize the skills I have acquired in chiropractic therapy to protect the health of my family and to energize the people around me.
Thoughts from the Instructor
Koichi Okui,
Instructor at GOODHANDS School of Massage Therapy / Director of GOODHANDS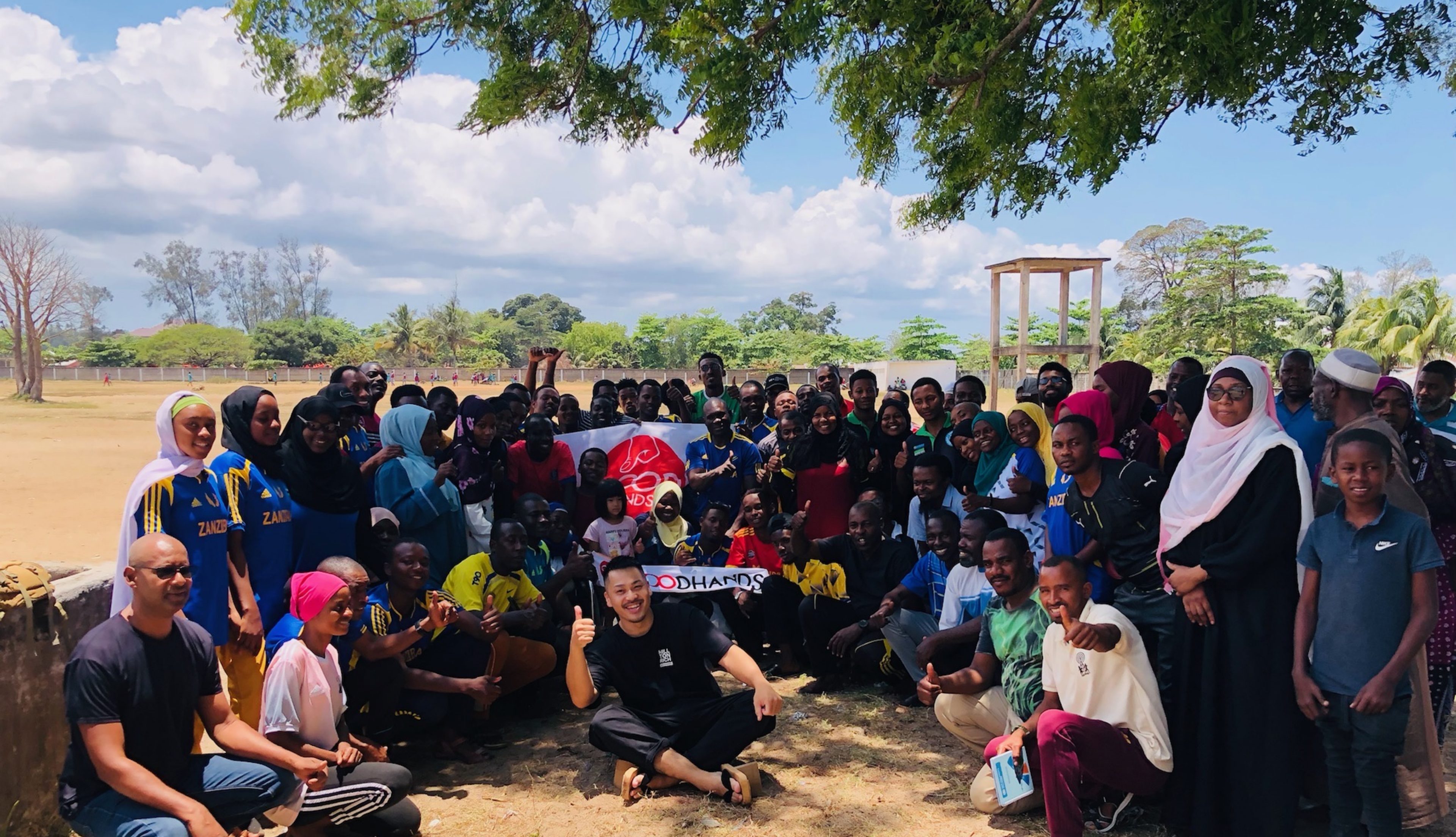 Are you really doing what you want to do in this one and only life? As a student, I found it very painful to sit in a chair in prescribed clothes and listen to the teacher's lectures at predetermined times. I always had doubts about what I was studying for and what I was living for.
At that time, I discovered boxing and found the path that I wanted to pursue, and I was able to feel that I was alive by making efforts. However, just before the professional test, I had to give up my dream due to a doctor's stop.
With no goals, I encountered a book about Africa during my difficult days, and decided to go to Africa because I wanted to help children who were poor and struggling around the world. I met a teacher of bodywork and decided to make money through bodywork and use it to help Africa. At first, I just focused on studying and working harder than anyone else to earn money. However, I was able to feel the charm, satisfaction, and responsibility of this work when I saw people with various symptoms getting better and feeling happy with my own "hands".
I realized that what Africa needed was not money, but the transmission of bodywork techniques that were still not available in Africa. I felt that this was what I really needed to do. The road ahead is still long, but I feel happy that I have found the path that I really want to pursue in this one and only life. There are various ways of living and working in the world, and there may be times when you cannot choose, but please find what you really want to do in this one and only life.
First, try our free trial course.
For those who want to learn about chiropractic,we are holding a free trial course
that you can participate in. Please feel free to join us.
Date and time of the event

Please call us for more information.

Location

〒536-0014
1-6-3 Shigino Nishi, Joto-ku, Osaka-shi, Osaka 536-0014
Would you like to become an expert in bodywork?
Contact us for inquiries.
Free Trial Course Application Form
Please join us for a free trial course. If you have any questions or concerns regarding the courses or our school, please feel free to contact us.